Description
The fruit of an atypical association of Bordeaux (Merlot) and Mediterranean (Syrah) grape varieties, this wine is an invitation to discover all the luscious richness of Languedoc reds.
Grape Varieties
50% Merlot, 50% Syrah
Harvested at the biginning of september.
Yields
35 hl/ha
Maturing
12 months in concrete vats
Terroir
The Merlot, which prefer cool, deep soils, are planted on the recent alluvial deposits and loamy clay banks of the river Orbieu. The Syrah is planted further away from the river, on sedimentary clay.
Tasting Note
A luminous ruby red. Notes of wild blackberry, cherry, spices, and liquorice on the nose. In the mouth it is full and generous with a well-balanced structure and elegant tannins.
Serving temperature
16°C
Cellaring
3 years
Distinctions

Médaille de Bronze : International Wine & Spirit Competition 2020
Atypique 2018
Well-focused and delicate red fruits in a soft and fresh example that is very approachable.

Médaille de Bronze : International Wine Challenge 2020
Atypique 2018
Ripe bramble fruit has savoury complexity of pepper, garigue and wild fennel, with a herbal note enlivening the finish. – Panel Chair: Angela Mount | Co-Chair: Charles Metcalfe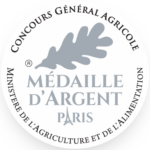 Médaille d'Argent : Concours Général Agricole 2020
Atypique 2018
Fruits noirs concentrés, bel équilibre

14.5/20 : Bettane & Desseauve 2020
Atypique 2017
Top Producteurs Prix – Plaisir 2020 – Coups de cœur inconditionnels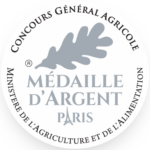 Médaille d'Argent : Concours Géneral Agricole 2018
Atypique 2017
Belle robe, épicé, boisé, très bien fondu, bonne longueur